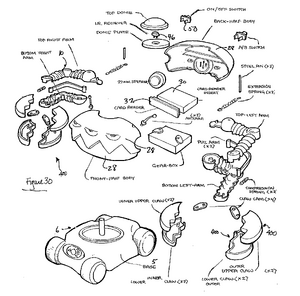 The scrapped Rumble Robots line was a supposed line of Rumble Robots. The only evidence of this line existing is in a patent.
Spring 2002 - RREdit
LavaJaw (Frytor/Witch Doctor)
BoltBrat
ThugNut
Lobtopus
BoltBrat
Lugnold
Freaktor
Fall 2002 - RR
Edit
Lobklaw
Saucerman
Crimson Crusher
Fall 2002 - Wingmen
Edit
2 unknown robots
Y0-Face-0
Clamslam
4 unknown robots
External Links
Edit
Part of the concept was later adapted into the Invasion line.
Ad blocker interference detected!
Wikia is a free-to-use site that makes money from advertising. We have a modified experience for viewers using ad blockers

Wikia is not accessible if you've made further modifications. Remove the custom ad blocker rule(s) and the page will load as expected.