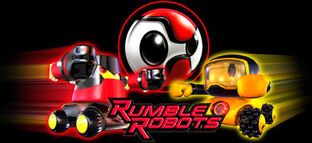 Rumble Robots were remote controlled robots that used collectible cards to activate. They were created in 2000, and were quite sucessful, supposedly selling over 2 million units or so. They were discontinued in 2002 when
Trendmasters
List of Rumble Robots
Edit
Blue Team
Edit
It was rumored that a third robot, Prumbrot, was in the works.
Certain popular brand AA batteries like Duracell brand will cause any robot that has a sticker label "Diamond Series" (on the bottom of the robots) to have a very low voice as if its batteries is dying. Which may confuse people of thinking the batteries is faulty, but its not (if you did get new batteries straight from the store).
Sunbeam brand batteries (found in dollar stores) has the opposite effect of the Duracell brand batteries. Instead of the robots (with or without the Diamond Series sticker label) having very low voice; they would have a very loud voice as if they are shouting and yelling. Also it increase the volume of the background & battle sound effects which may cause people think that its realistic.